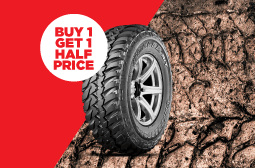 On selected Bridgestone Dueler D674.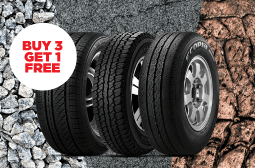 On selected Bridgestone Car, 4X4 & Van tyres and Firestone 4X4 tyres.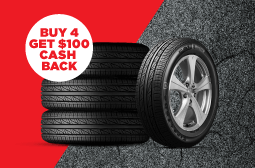 When you purchase 4 selected Firestone car tyres.

When bringing your vehicle for Tyres to Bridgestone Tyre Centre, you can be rest assured you're getting the very best and most reputable tyre automotive service in Auckland.
This business carries a combined history of serving Auckland for 70 years.
If you are looking for new tyres in Auckland City, Bridgestone Tyre Centre are one of New Zealand's leading Auckland tyre specialists, committed to providing a first class, friendly service to all of our valued customers and their vehicles.
Whether you require the perfect tyres for your vehicle, a wheel alignment, nitrogen tyre inflation or any other tyre related service, our professional, qualified and experienced team will be delighted to assist
We understand what it takes to build a business that is loved by its customers for the long haul and where our customers come from word of mouth more than any other form of advertising.
You will enjoy our friendly team and exceptional customer service by visiting our newly renovated workshop at 310 New North Road, Eden Terrace.
What does it mean for you?
Top quality tyres at great prices and a whole lot of additional convenience! With our close proximity and partnership Fredco – Mechanical and Auto Electrical you can have all your vehicle needs taken care of in one visit. We will take care of your Tyres, and your WOF, mechanical, auto- electrical , tyres, wheel balancing and alignment at the same time.
All with the Bridgestone Tyre Centre and Fredco smile and service guarantee.
BRIDGESTONE TYRE CENTRE AUCKLAND CENTRAL – YOUR ONE STOP SHOP FOR TYRES AND CAR SERVICING.

Puncture Repair
No matter how new, expensive or tough your tyres are, no-one is immune to a puncture. Luckily we specialise in tyres, so we know how to fix them!
If you are unlucky enough to get a puncture, bring it to us and our team of mechanics will have you back on the road in no time. They have the skills and experience to evaluate if it can be fixed in a safe and professional manner in line with safety standards (NZ Standard 5423).
Tips To Avoid Getting Punctures:
Check the treads on your tyres regularly for embedded glass, stones or sharp objects.
Make sure your tyres are inflated correctly (including the spare).
Never Drive On A Flat Or Partially Deflated Tyre
Driving on a flat tyre is not only dangerous, but it also increases the chance of having to replace the tyre instead of getting away with a repair. So if you notice your tyre is looking a bit flat, pull over, replace it with your spare and bring it on in for us to check out.
Nitrogen Tyre Inflation
When it comes to handling, tyre life, fuel efficiency and overall road safety, correct tyre pressure is essential.
If you find you often have under-inflated tyres, then call in and talk to us about nitrogen tyre inflation. Nitrogen leaks slower than standard compressed air and is a good way to maintain tyre pressure over a longer period of time.
Benefits of Nitrogen in your tyres:
greater fuel economy
longer tyre life
improved road grip and handling and
safer more secure all-weather performance
The benefits of nitrogen tyre inflation has been substantiated from research conducted by The Get Nitrogen Institute. A detailed summary of the reported results can be seen here.

Tyre Pressure
Tread and tyre pressure are the two critical factors to tyre safety. Tyre tread will help your vehicle to grip the road surface when braking and cornering.
Driving on under-inflated tyres will use more fuel, while driving on over-inflated tyres can affect vehicle handling and overall wear.
Tyres are a routine check with all vehicle services.

Did you know
Legally, treads must be at least 1.5mm deep across three quarters of the tread pattern around the entire tyre. However, if you have tread depth indicators in the principal grooves then you must have at least 1.5mm tread depth in these areas.
Wheel Alignments
Wheel Alignments are important to the handling of your car; they also improve fuel economy and extend tyre life.

What We Do
We adjust all four wheels so they are parallel to each other. This is done using the latest laser technology which produces a sensor zone around the vehicle and highlights any steering or suspension faults.
The results include:
Improved Driver Safety
Improved Handling
Increased Fuel Efficiency
Extended Suspension Life
Minimized Tyre Wear
Improved Steering.

Why We Do It
Some common problems encountered when your wheels are out of alignment include:

Steering:
Wheel is difficult to turn
Pulls to the left or right
Vibrates
Tyre wear shows signs of:
Uneven wear on one side
Feathering
Flat Spotting
Wheel Balancing
If your car tends to shake and stutter as you're driving along, it is highly likely that at least one of your wheels need balancing. It's more than just annoying to drive with wheels out of balance – it's dangerous too. This condition can create bald spots in your tyres, permanent vibration and uneven tyre wear.
Your wheels might need to be balanced if any of the following conditions apply to you:
At certain speeds your car shakes.
You have recently had new tyres fitted.
You have had a tyre removed from its rim.
You have noticed even a small amount of irregular tyre wear.
You have unusual vibrations in your steering wheel.
Optimise your fuel efficiency and increase the life of your steering and suspension with a wheel balance. Here at Fredco, we use the technologically advanced, German designed Probase balancing system to achieve perfect wheel balancing. No matter how bad of a case of the shakes your vehicle has, we are confident that we can smooth things out.
Come and see us today to get a thorough wheel inspection and quick fix by our experienced mechanics.
Run Flat Tyre Repair
Usually a puncture means you're not going anywhere without stopping and replacing your tyre first. But that's not the case with Bridgestone's Run Flat Tyre. It's specially designed to let you travel up to a distance 80 kilometres  (staying under 90km per hour) even after a puncture.
Advantages of Bridgestone's Run Flat Tyre
You can bring your car to a safe location even when the tyre is punctured.
You don't have to change the tyre yourself.
You won't need to carry a spare tyre, freeing up space and improving overall fuel efficiency.
Conditions of our Run Flat Tyre repair:
The stores listed have the ability to service Run Flat Tyres.
Run Flat Tyres can only be fitted to vehicles with a TPMS (Tyre Pressure Monitoring System).
We recommend Run Flat Tyres are only fitted to vehicles that have Run Flat Tyres fitted as Original Equipment.
This service is available at selected stores only. Please call first.